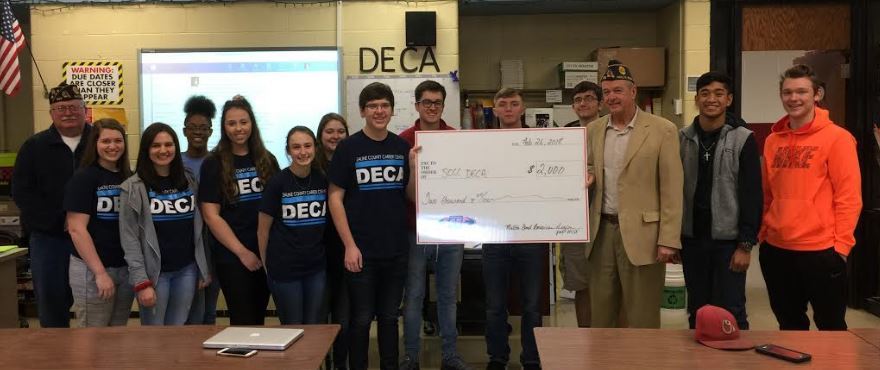 Malta Bend Memorial American Legion Post #558 Donation
Kerry Henley
Monday, February 26, 2018
News Release
Malta Bend Memorial American Legion Post #558 donates to the Saline County Career Center DECA chapter:
On February 26, 2018, SCCC DECA received a generous donation from the Malta Bend Memorial American Legion Post #558. The donation of $2000 will help support and sustain our chapter funding this year. We have 22 members who will be competing at the DECA State Career Development Competition which will be March 11-13, 2018, and will be held at Westin Crown Center in Kansas City, MO this year for the first time. International competition will be held in Atlanta, Georgia, on April 20-25.
Each year SCCC DECA works with local initiatives and charities to develop marketing, publicity and advertising plans or general community awareness programs. This year Marshall Public School's Project DECA (Public Relations Project), Hoot Resource Center (Public Relations Project), Band Aid (Start-up Business), Buddy Pack Program (Advertising Campaign), Salt Fork YMCA (Advertising Campaign), Baby Grace (Community Service Project), IAM (Fashion Promotion Plan), Clean Freaks (Creative Marketing) and Pets for Patients (Creative Marketing Project) will be hoping to move onto International competition. DECA members enjoy giving back to our community which has supported us whole heartedly every step of the way.
SCCC DECA provides a sponsorship level, which includes advertising opportunities through DECA for each business that donates to the chapter. Initially created two years ago by Quiz Falls and Jack Hemeyer as a "Learn and Earn" project to help fund DECA competitions, Dough4DECA has been continued this year by chapter members as a source of funding for competition. On March 5, 2018 DECA is scheduled to work an Intersection collection and proceeds will go to competition expenses as well.
Businesses interested in becoming a sponsor this year can contact Kerry Henley, DECA Advisor, at 660-886-6958.