MPS will have a two hour late start tomorrow, 1/17. Buses will run 2 hours later than normal.

MPS will not have school on Tuesday, 1/15 due to road conditions.

MPS will not have school tomorrow, 1/14 due to road conditions. Stay safe.

Due to forecast weather, MPS will be dismissing students at 1pm today 1/11 & no YMCA After School Program today.

MARSHALL PUBLIC SCHOOLS HEALTH ALERT Issued by Dr. Carol Maher, Superintendent of Schools January, 2019 See News Article on MPS Website

MPS will not be in session tomorrow, Tuesday, Nov. 27.

Marshall Public Schools are closed for Monday, Nov. 26 due to weather conditions.

Tomorrow 11/13 will be a 2 hour late start due to weather. All bus routes will be 2 hours later than normal.

Marshall Public Schools will dismiss at 1:30pm today 11/12/18.

SCCC Community Education Program Registration Deadlines fast approaching for the following classes: Understanding Farm Financial Statements CPR Certification Drawing for Non-Artists MS Excel Start and Manage a Small Business Emergency Medical Technician Pottery Beginning Photography Navigating the iPad Manage Your Financial Series For a complete list of class offerings go to: tinyurl.com/SCCC-Classes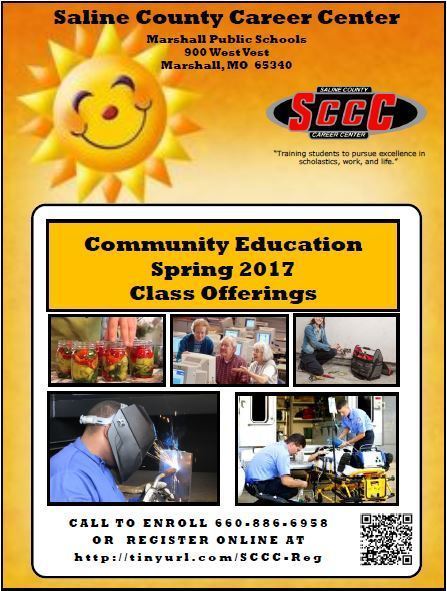 This year eight DECA students attended "The New York Experience", Nov. 30 - Dec. 3. The students are in SCCC's Advanced Marketing Class and were responsible for raising their own funds to be able to attend. Along with this group were Mitch Holder, SCCC Director, and Kerry Henley, DECA Advisor. During the workshop there were several tours of the different fashion areas/industries that New York is most famous for, along with several marketing related publication outlets such as NBC Studios.

Applications available for 2017-2018 Practical Nursing Program. Use Practical Nursing Program link to download forms. Apply early.