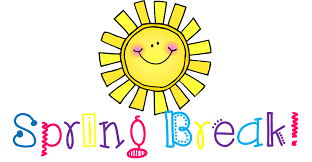 CONFERENCES & SPRING BREAK
Julie Miller
Thursday, March 09, 2017
Spring Conferences will be Wednesday, March 15th from 3-7 pm, and Thursday, March 16th from 12:40-7 pm. Please make every effort to attend!
Just a reminder that school will be dismissed at 12:30 on Thursday, March 16th. There will be NO SCHOOL on Friday, March 17th, Monday, March 20th, and Tuesday, March 21st.
Classes will resume at the regular time Wednesday, March 22nd. As usual, that will be a 2:15 pm early release.
HAPPY SPRING BREAK!