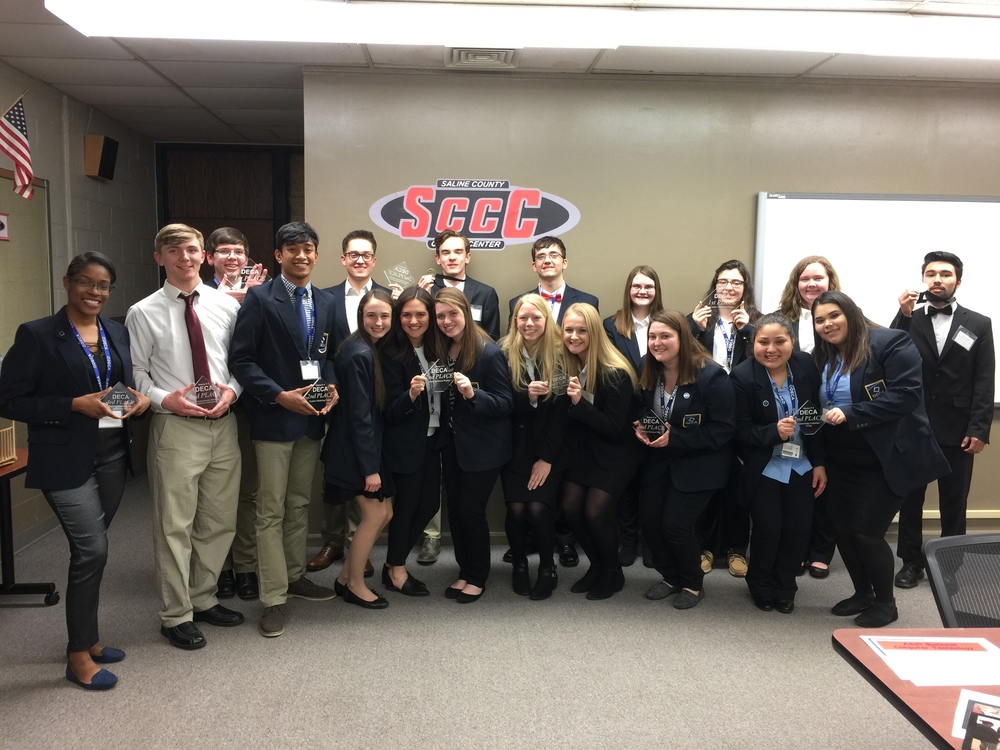 2018 DECA District Competition
Kerry Henley
Friday, February 09, 2018
News Release
Saline County Career Center DECA chapter competes at district competition:
This year 38 Saline County Career Center DECA students participated in district-level competition in Independence on Wednesday, Feb. 7, 2018. There were 23 members who received onstage recognition. There will be 20 who will be moving on to compete at the state level.
DECA prepares emerging leaders and entrepreneurs for careers in marketing, finance, hospitality and management. These students competed in a variety of events for a chance to represent their district at the State Career Development Conference to be held at the Westin Crown Center in Kansas City on March 11-13.
The SCCC DECA students receiving recognition Wednesday included: Grant Mach, Lindsay Young, Iline Alvarez, Elijah Falls, Samantha Ramirez, Rhiannon Bowlen, Katherine Greathouse, Romario Monroy, Elijah Jackson, T-Love William, Ashlyn Robbins, Brenen Sullivan, Chastity Stephenson, Zachary Baker, Logan Evans, Katherine Miles, Anna Hartley, Rileigh Massey, Lauren McComas, Caitlyn McCorkle, Madison Baker, ReBekka Cox, and Trinity Stewart.
The following students will advance to state competition in the following categories:
Chapter Events
First place Community Service Project-Rhiannon Bowlen, Katherine Greathouse (Baby Grace)
First place Creative Marketing Project-Madison Baker, ReBekka Cox, and Trinity Stewart (Pets for Patients)
Second place Creative Marketing Project-Elijah Jackson, and T-Love William (Clean Freaks)
First place Public Relations Project-Zachary Baker, Logan Evans, and Katherine Miles (Project DECA)
Second place Public Relations Project-Anna Hartley and Rileigh Massey (Hoot Resource Center)
Entrepreneurship Events
2nd place Start-Up Business Plan-Brenen Sullivan and Ashlyn Robbins (Band Aid)
Marketing Representative Events
2nd place Advertising Campaign-Iline Alvarez and Samantha Ramirez (The Buddy Pack)
3rd place Advertising Campaign-Lauren McComas, Caitlyn McCorkle, and Lindsay Young (Salt Fork YMCA)
3rd place Fashion Merchandising Promotion Plan-Chastity Stephenson (IAM)
VBC Events
1st place in Missouri for the Personal Finance Challenge-Elijah Falls
(Competition has completed for this category and recognition will take place at State for this award)