The Saline County Career is starting the 2019-2020 academic year by offering new and updated programs to secondary students. In its 51st year, SCCC has a long history of meeting the ever-changing needs of students, and businesses from Marshall and the surrounding communities. High School students from Marshall, Malta Bend, Slater and Sweet Springs attend classes at SCCC, choosing classes from nine program areas. One of the programs offered at SCCC is Building Trades.
The Building Trades program offered at the Saline County Career Center has been revamped this year, offering a sequence of classes for freshmen through senior students. Introduction to Carpentry, and Carpentry Skills are classes for beginning students who are interested in exploring careers in the construction industry. Building Trades is the two-year capstone class, designed for those interested in pursuing a job in the carpentry trade. Course objectives are to provide practical experience, information and skill techniques relating to residential painting, carpentry, and other specialties. Upon completion, successful students will receive an OSHA 10 safety card. All students enrolled in the Building Trades program are strongly encouraged to participate in SkillsUSA, a student organization providing hands-on enrichment opportunities for career and technical students.
The Building Trades program is taught by Mr. Chris Pitts. Mr. Pitts is a new instructor at the Career Center, but he is not new to teaching or to the industry. Born and raised in Saint James, MO, Mr. Pitts graduated from Rolla Technical School. He has 23 years of experience in the construction field and has taught at Kennedy, TX and Doniphan, MO. Mr. Pitts is also an MHS Junior Varsity football coach and SkillsUSA advisor.. He has moved to Marshall with his family, and enjoys hunting and spending time at the lake.
"We are very excited to welcome Mr. Pitts to Marshall and the Saline County Career Center. The experience he brings to the classroom is invaluable. The Building Trades program is striving to meet the current needs of local industry for the carpentry trade workforce." commented Callie Dobbins, Director of SCCC.
For more information about the Saline County Career Center and the programs offered, please contact Dobbins at (660) 886-6958.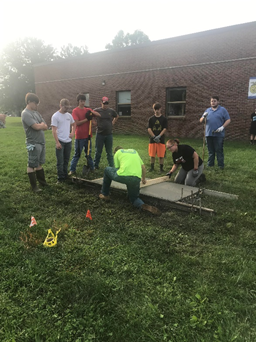 Building Trades class learning skills while pouring concrete for the new FFA sculpture, to be placed outside the Industrial Arts building.