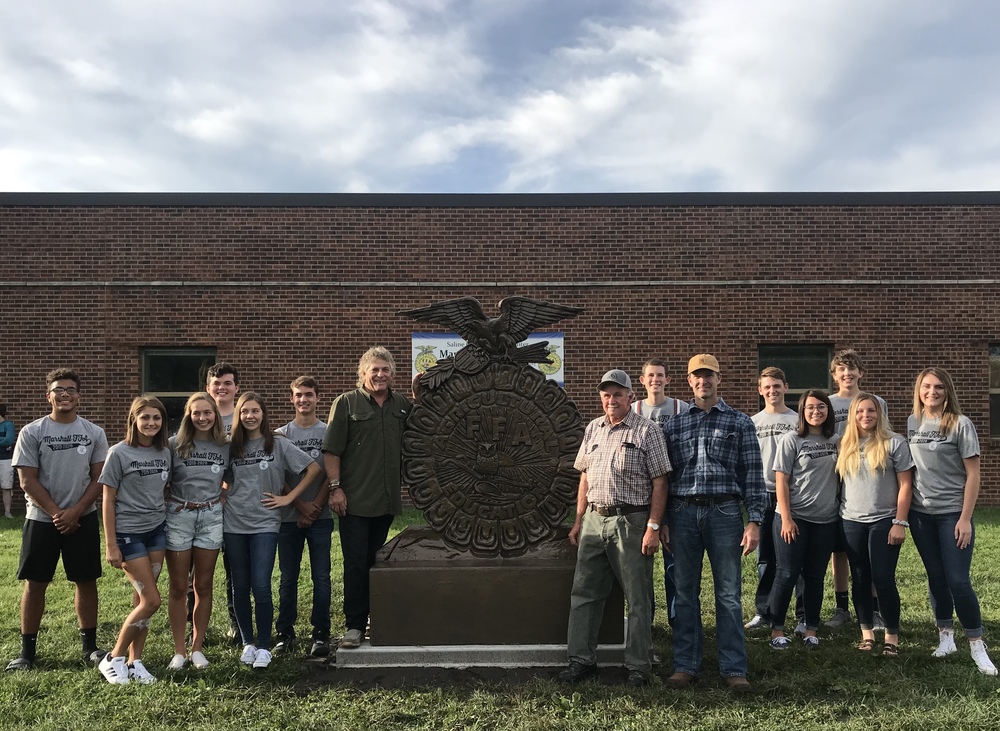 FFA Emblem Donation
Mary Keller
Friday, September 13, 2019
Marshall FFA Is Proud Recipient Of Gift
2 Ton FFA emblem on permanent display at SCCC
Dedicated to past, present and future FFA members, the Marshall FFA chapter is the proud recipient of a beautiful statue of the FFA emblem. Donated by Mike Hisle and Hisle Family Farms, the emblem signifies many things to many people.
"The Marshall FFA chapter has meant a lot to our family over the years. We wanted this gift to be a reminder of our community's rich agricultural history and the support our youth receive through their involvement in FFA." said Hisle.
Hisle read about artist, Terry Zulkowski in a farm journal and decided to make the gift. In 2009 Mr. Zulkowski was licensed by FFA to make replicas of the emblem. The emblem weighs approximately 2 tons, stands 80" tall and was transported to Marshall from Needville, TX by the artist. The front of the emblem is an exact replica of the FFA emblem, with insignia of an eagle, ear of corn, and owl, which have special meaning to FFA members. The FFA motto is inscribed on the back of the emblem, and reads "Learning To Do, Doing To Learn, Earning To Live, Living To Serve."
Mr. Zukowski was an FFA member himself and made his first emblem to honor his retiring Vo-Ag teacher. To date, he has made 25 emblems and installed them for FFA chapters from coast to coast. One of his most memorable installations was for the FFA Chapter of President Jimmy Carter in Plains, GA.
Many people were involved in the successful installation of the statue, including Mr. Zulkowski himself, Mr. Brian Miles, the SCCC Building & Trades class and Marshall Public Schools maintenance crew. The emblem can be viewed outside of the Ag. Department, on the north side of the Industrial Arts Building by the Saline County Career Center.
"We are honored to receive this gift." said Ms. Callie Dobbins, Director of the Saline County Career Center. "The Hisle family has been very supportive of our programs over the years. The gift is a tribute to the success of our local chapter, and the foundation created by our FFA alumni of its 89 year history."