President
Jennifer Harvey
Vice-President
VACANT
Co-Secretaries
Leigh Ann Riley
Julie Dawson
Treasurer
Lori Matheis
Social Media
Lauren Hare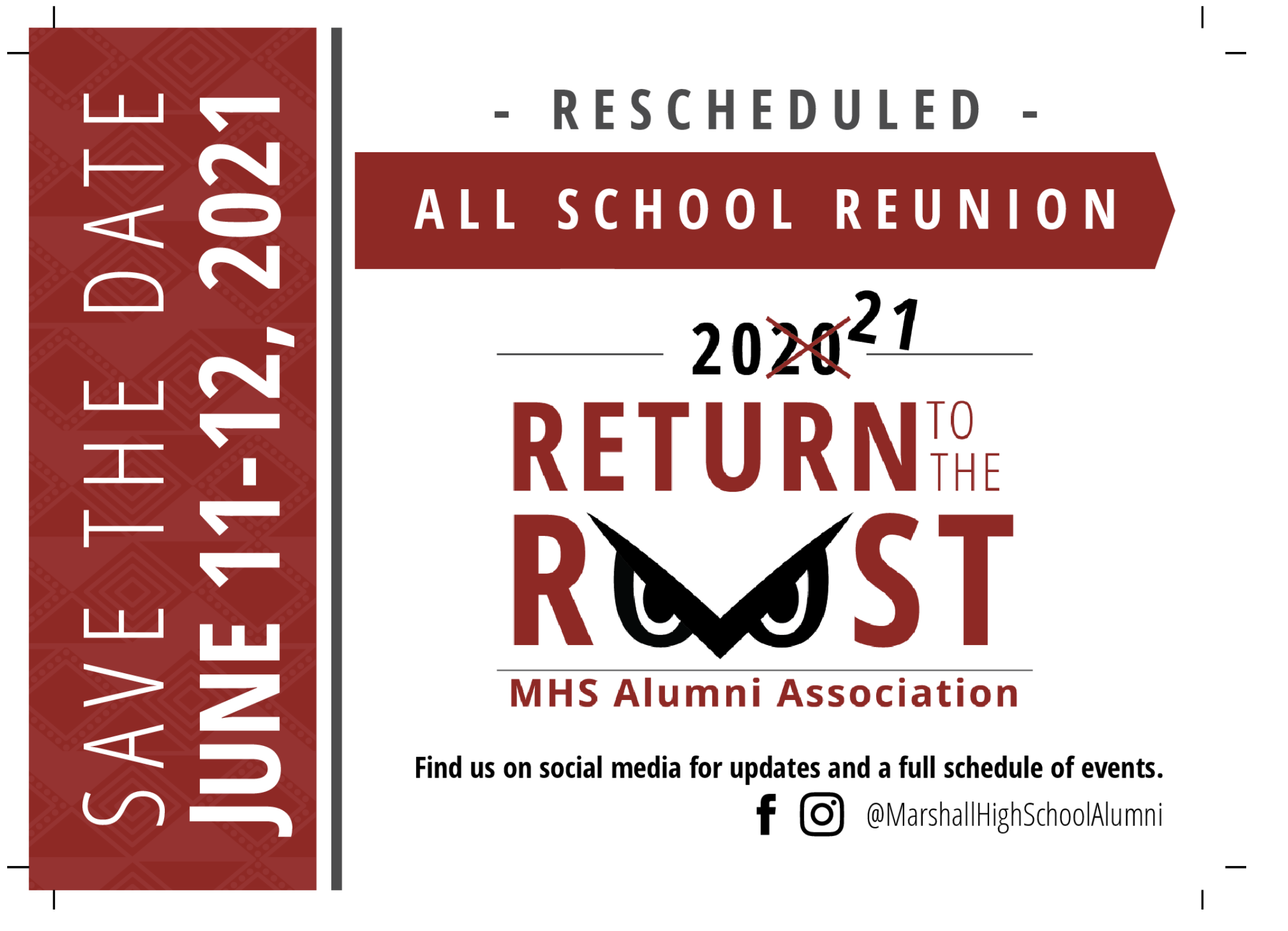 Return to the Roost All School Reunion
June 11-12, 2021
This is an every 5 year event.
Follow us on Facebook and Instagram for details
We will schedule meetings as necessary and will announce them on Facebook and on the school website.
Follow us on Facebook and Instagram (Marshall High School Alumni)
Membership Dues are $15 for 5 years
Official Return the Roost Shirts start at $16
MHS Alumni Association MEMBERSHIP DRIVE
Marshall Alumni Association is asking all MHS alumni to support the Association's efforts by becoming members of the MHS Alumni Association.
Membership dues are $15 for next year's event. The membership will last 5 years till the next Return to the Roost event in 2025.
These dues will support the MHS Alumni Association's mission's which include:
To provide undergraduate scholarship to MHS Seniors.

To assist with the planning and organization of reunions.

To provide opportunities for involvement with the Alumni Association.

To maintain a comprehensive database of all alumni.

To inspire commitment and loyalty to Marshall High School.
MHS Alumni Association's desire is for the monies collected from membership dues and added income from T-shirt sales, we will be able to provide scholarship for deserving MHS Seniors and help cover expenses for MHS Alumni Association missions.
Since commitments are needed to be finalized very soon for procurement of portable toilets, trash removal, insurance to cover the liability of the Return to the Roost event, and other miscellaneous expenses, we are holding a MHS Alumni membership drive at this time.
Therefore, if you are a MHS Alumni, we are asking for your support right now with your MHS Alumni Association membership.
At this time, you can obtain your alumni membership in a couple of ways.
Visit the Return to the Roost T-shirt sale Web Page and pay by debit or credit card. Once you are on the website, please scroll down to the bottom of the page where you find the MHS Alumni Membership link box. Double click on the box and follow instructions to check out, just like you when you purchase a T-shirt. You should be asked your graduation year before check-out.

Website address is:

Pay by check and mail to the MHS Alumni Association at:
MHS Alumni Association
860 West Vest
Marshall, MO 65340
Make sure you write down on your check your graduation year.
We need your graduation year so we can issue your membership cards out at the corresponding registration table at the Return to the Roost Registration being held in the MHS gym the Friday am/pm and Saturday morning of the event next year.
Thank you so much for your support and we will look forward to seeing you June 19th-20th, 2020!!!
Return to the Roost update:
Accommodations information can be found at: www.visitmarshallmo.com/stay