Marshall Robotics Team #4903, Bueker Bots, qualify at FIRST Lego League Challenge Tournament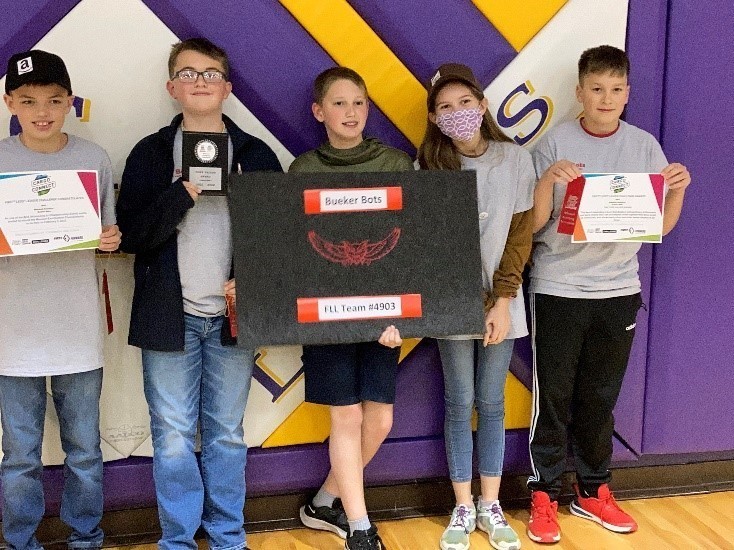 Team members: Kye Wilcoxson, Jack Thompson, Hudson Green, Meg Linsenbardt, and Aleks Simic
FIRST LEGO® League (FLL®) Team #4903, Bueker Bots, comprised of sixth grade students representing Marshall Public Schools competed Saturday, December 4, in a FLL qualifier at Camdenton, Missouri.
FIRST LEGO® League (FLL®) introduces young people, grades 4-8, to the fun and excitement of science and technology while building self-confidence, knowledge, and valuable life skills. During this event, the team competed with other students from the Central Missouri Region. Teams were challenged to research a real-world problem and develop a possible solution, build and program a Lego Mindstorm EV3 robot to run autonomous missions on a field competition table, while exemplifying FIRST Core Values. This year's challenge, Cargo Connect, inspired students to improve the transportation of products. The team's solution addressed stream-lining delivery services to help reduce cost and carbon footprint associated with package delivery.
At the Central Missouri Qualifier, 19 teams competed for a top spot. Bueker Bots received the Core Values Award, advancing them to the Missouri East/Central Championship Event which will be held on February 5, 2022, in Florissant, Missouri.
Coach Lori Peel commented, "Our team did a wonderful job representing Marshall, and I am very proud of them. I look forward to seeing what they will accomplish as they prepare for the Championship!"