The Marshall Board of Education has selected Caleb Petet as the next superintendent of the Marshall Public Schools District. He will officially begin his duties July 1, 2022.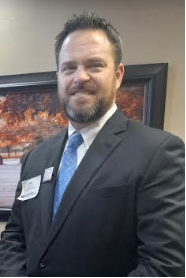 Petet has sixteen years of experience as a teacher and administrator. He has served in various roles within his tenure starting as a history teacher in both the middle and high school levels, then moving on to administration.

For the last two years, he has served as superintendent in Climax Springs, Missouri.
"Mr. Petet's experience and skill set aligns with our district's mission and desire to continue the tradition of excellence in Marshall schools," said Bryon Jacques, MPS Board of Education President.

Petet served as an elementary school principal in Concordia and in Warsaw before accepting the job of superintendent at Climax Springs. He earned his bachelor's degree and Education Specialist degrees from the University of Central Missouri. He then later earned his master's degree from William Woods University.

Petet says "teaching and learning is a calling" and that he left the comfort of being a high school
principal to pursue certification as a Superintendent. "I was surprised to find a true love for each level and every age," Petet said.

Board President Jacques said, "Mr. Petet offers our district a wide breadth of experience in public education, much of it in school districts in our area. His data-forward approach as an administrator and his dedication to building positive relationships with students, staff, and our community will make him an excellent fit for the City of Marshall and our district."

Petet has a local connection as well, having graduated from Santa Fe High School. He grew up in Waverly, so he is familiar with the Marshall school district and community.

Mr. Petet said, "I am honored to be selected as the new superintendent of the Marshall School District. As a native of Missouri education, I have always held Marshall in high regard. I appreciate the rich history of community support for the school system, as well as the strong academic history and wide range of extracurricular opportunities. My family is excited to call Marshall home and my wife and I look forward to our children benefitting from all the district and community has to offer."


Mr. Petet was born and raised in nearby Lafayette County. He is most proud of his family. His wife Rebecca of 14 years who is currently a kindergarten teacher, daughter Bellamy (7), son Henry (4), dog Sadie and a small herd of cows. "Education is a family matter. Both families have long since covered every imaginable role within the public school system. Education is a household passion and one we take seriously," commented Petet.

The Marshall Board of Education will host events to introduce Petet to the community.
Announcements about upcoming opportunities to meet with the new superintendent will be
posted on the MPS website and in local media.